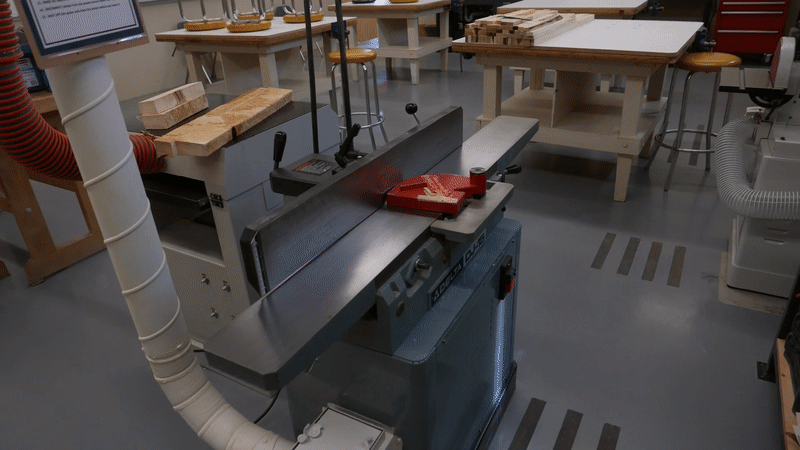 Virtual Shop Evenings
Upcoming:
August 23 @ 6:30 PM (Central): Use and design of a knock-down workstation.
TBD Topics are to-be-determined. If you have a topic you would like to delve further into, please let me know at paul@clickonce.ca
While most of us are safe at home, the woodshop is closed and empty, leaving little opportunity for woodworking community and learning.
At this point, we are hopeful that the woodshop will reopen in the summer and that we can start our class and drop-in schedules then. In the meantime, shop Supervisor and Instructor Paul Shipman will open (virtually) his off-site basement woodshop every Wednesday evening 6:30 pm - 9:30 pm to anyone who wants to talk woodworking, learn woodworking or woodwork from home with others. (drop-in at any time)

Starting on April 22, we will begin two follow-along projects that any students from Introduction to Woodworking thru Woodworking II will be capable of doing, simply by following along at home every Wednesday. The only tools necessary are a saw (hand, jig, mitre, table, circular, whatever) and a hammer - though a drill and screwdriver will be helpful as well. Materials for the bird feeder and squirrel picnic table can be ordered for delivery or contactless pickup via Windsor plywood for around $55 (you place the order yourself). The attached spreadsheet lists the required materials and also recommends some tool options that you can order if you don't have tools at home and still want to learn. For individuals practicing hand sawing for the first time, this project will be a relatively easy introduction.
Anyone is welcome, up to 250 people at a time.
Come with questions. Learn what you can do at home with a limited toolset and how you can move stalled projects forward while we weather this storm. If you have a shop at home, set up in your shop and work along with us.
In a few weeks, we will pivot this evening into some extension classes. Learn things that don't get covered in our regular woodworking courses. The schedule will be posted and updated here on this page as they are decided. The teaching portion of these evenings will take place from 7:00 pm - 8:00 pm to allow people time to connect.
Past Sessions:
April 8, 7:00 pm - Work holding methods
April 16, 7:00 pm - Making a square from stuff you have at home
April 22, 7:00 pm - Bird feeder kick-off
April 29, 7:00 pm - Bird feeder session 2
May 6, 7:00 pm - Bird feeder session 3
May 13, 7:00 pm - Squirrel Picnic Table
May 20, 7:00 pm - Keeping Tools Sharp
May 27, 7:00 pm - Restoring old hand tools
June 4, 7:00 pm - Chiselling Techniques
July 2, 2020, 7:00 pm - Exploring a Joiner's Tool Box & The Bench Hook
September 3, 2020, 7:00 pm - How to sand (and more importantly, how to not sand)
October 5, 2020, 7:00 pm - Finishing techniques
November 2, 2020, 7:00 pm - Measuring & Marking and making repeatable cuts
November 4 @ 6:30 PM- The Dovetail Box
November 5 @ 6:30 PM- Hand Tool Fundamentals - Sawing and Planing
November 9 @ 6:30 PM, presentation at 7:00 PM - Build along - the bench hook

Have available one piece of wood approximately 12 inches in length. 6 - 8" wide is best, but anything will do. 2x4, 1x6, 2x6, plywood, your choice. You'll need a saw, and a fastening system (i.e. glue, screws or nails)

November 16 @ 6:30 PM, presentation at 7:00 PM - Build along - the bench bull

Have available a 2 x 6, 2 x 4 or similar. You will need at least 2 lengths of 12 inches, plus 3 sections as long as the width of the 12" boards. The 3 sections can be less wide than the main sections. One 2x6 at 42" will suffice. You will need a saw and a fastening system (i.e. glue, screws or nails). We will do optional lapping joinery. If you want to practice lap joints, you will need a chisel, table-saw with Dado blade or a Router system.

November 23 @ 6:30 PM, presentation at 7:00 PM - Build along - chisel rack

Have available two or more boards no thinner than 3/4 inch, at least 6" long and 2" wide. You will need a forstner drill, or a large twist bit, auger or expansion bit (1" is best, but 3/4 will do). You may also need a saw and a fastening system (i.e. glue, screws or nails).

November 30 @ 6:30 PM, presentation at 7:00 PM - Build along - clamp storage
December 7 @ 6:30 PM, presentation at 7:00 PM - Planes
January 6: Designing your own projects
January 13: How to sand (and more importantly, how to not sand) (repeat)
January 20: Finishing Techniques (repeat)
January 27: Introduction to dovetails (repeat)
February 3: Introduction to dovetails pt. 2
February 10: Learning through critique
February 17: Woodshop Trivia Night #1
February 24: Wooden Frame Glasses project: making a scratch stock.
March 3: The humble axe and its place in the modern wood shop.
March 10: Woodshop Trivia Night #2
March 17: carving a spoon from green wood.
April 5: Plane setup
May 3: Online Resources